Learn React the right way.
Instantly unlock years of React knowledge and fast-track your skills to the top. Full of best practices, real-world experience and projects designed to get you up to speed fast and effectively.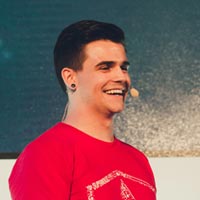 Brought to you by Todd Motto, multi-award winner, world-wide conference speaker and workshop leader.
Google Developer Expert
Write React like an expert.
Build real structured apps with confidence.


Empowering Fortune 500 companies and developers worldwide

























Get the complete bundle...
Everything you need to start mastering React today
Job-ready training
Nail that interview with your new skills that will set you apart.
All the best practices
Best practices, design patterns, performance and architecture.
Stream or download
Learn at home at your own pace, download for offline viewing.
Expert knowledge
Built by Google Developer Experts, there's no better place to learn web.
StackBlitz examples
Access full course source code and experiment in the browser too!
Slack community
Exclusive access to our members-only community (6,800+ members).
React Kickstart Bundle
2 courses
ADD TO CART
+VAT for EU


React Master Bundle
6 courses
ADD TO CART
+VAT for EU





Secure SSL encrypted payments

30-day money back guarantee
These courses are empowering thousands with expert knowledge - they will you too. If you're disappointed for whatever reason, you'll get a full refund.

Location discount picker
ㅤ