Everything you need to
become a React expert
Learn the smarter and faster way, with industry best-practices and real-world scenarios for you to become the ultimate React developer.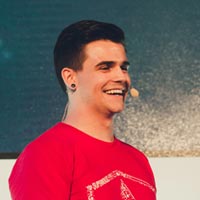 Brought to you by Todd Motto, multi-award winner, world-wide conference speaker and workshop leader.
Google Developer Expert
Unlock React's full potential.
Build real-world structured apps that scale.



React Basics
Component Architecture and Theory
Deep JSX understanding
Functional Components and Props
React DOM vs Browser DOM
Building Functionality
Thinking In Components
Fetching Data over HTTP
Router Basics
Accessible Forms

React Router v6
Dynamic, Ambiguous and Nest Routes
NEW Hooks-based APIs
Public and Protected Routes via Auth
Query/Search Params and Route Params
Declarative and Programmatic navigation
Lazy-loading, Code-splitting, Suspense
Object-based Route Configs
Redirects, 404 Not Found and Default Routes

React State Management
State Management with Hooks
Component and State architecture
Apply Redux techniques useReducer hooks
Using the Context API
Lifting state up
Handling asynchronous actions
CRUD Operations

Advanced React
Lazy loading techniques
Code splitting
Code sharing
Memoization
Advanced ref usage
Portals
Error handling
Esoteric hooks
Using GraphQL in React

Todd Motto Google Developer Expert
I'm Todd, creator of Ultimate Courses teaching beginner to advanced JavaScript, Angular, NGRX, TypeScript through my online courses and blogs. I'm here to help you learn faster for less effort so you can focus on your coding - enjoy!
Empowering Fortune 500 companies and developers worldwide




























The complete roadmap for
expert React skills
(Also available separately, if you like)
Get the complete bundle...
Everything you need to start mastering React today
Job-ready training
Nail that interview with your new skills that will set you apart.
All the best practices
Best practices, design patterns, performance and architecture.
Stream or download
Learn at home at your own pace, download for offline viewing.
Expert knowledge
Built by Google Developer Experts, there's no better place to learn web.
StackBlitz examples
Access full course source code and experiment in the browser too!
Slack community
Exclusive access to our members-only community (6,500+ members).
React Kickstart Bundle
2 courses
ADD TO CART
+VAT for EU


React Master Bundle
6 courses
ADD TO CART
+VAT for EU





Secure SSL encrypted payments

30-day money back guarantee
These courses are empowering thousands with expert knowledge - they will you too. If you're disappointed for whatever reason, you'll get a full refund.

Location + Student discounts
Not-so-good exchange rate (i.e. India/Brazil)? Are you a student? Contact us for a coupon with your location or student details.